Erin Eggenburg's Mending Blog
• diy • how to • mending • sashiko • tutorial • upcycle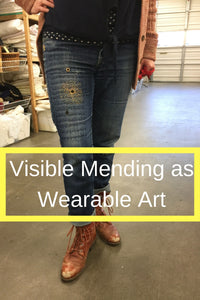 When my favorite pair of jeans became too threadbare around the thighs, I wondered if it was it. I love these jeans, so it was worth the "experimend" to try and save them. 
Read on for a mending lesson that can add years of life to your denim!
---
• how to • mending • sashiko • upcycle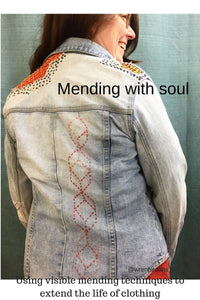 Using visible mending and some simple scraps of fabric, I added new life to this previously determined disaster of a jean jacket headed for the landfill.
Read on for a look into this hand embroidered repair. 
---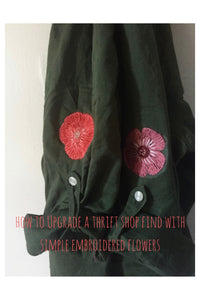 Upcycle a thrift shop find for under $10 Have you noticed embroidery is having a moment? And are you dying over all of the gorgeous embroidery clothing that costs a fortune?  I hate spending gobs of cash on clothes, but I also hate spending time cruising online sales for clothes that don't fit half of the time. What's a girl to do?  This brings me to today's post. I found this green shirt at a local thrift shop for $2, and decided to add a flower to each sleeve. Kind of a boho meets basic style.  To stabilize or not...