• clothing repair • darn • how to • mending • product
The good news is, there is a lot of overlap when it comes to what materials are used for which type of stitching.
This also means that as a beginner, it might be confusing to know how to choose the type of thread or yarn to use for your specific project.
I'll explain different types of thread, and also yarn (I think it's fine to use these terms interchangeably), and the terms or numbers you might see when looking for materials to use for your project. 
---
• clothing repair • diy • how to • mending • product • sashiko • tutorial • upcycle • visible mending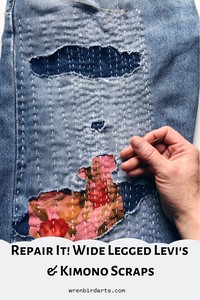 This is a pair of Levi's 569 32 X 30. The legs were so wide, I wanted to give them more of a feminine feel with the visible mending. 
Before I start any denim mend, I cut off all of the excess strings and fluff, leaving a clean denim edge. This often makes the rips appear much larger, so make sure not to cut your patches until you have cut away all of the damaged denim. 
After cutting off all of the excess, I cut patches 1/2"- 3/4"  larger than the hole you are repairing. Then, secure the patch by pinning all the way around the hole.